Angad Sadgar my closest friend knew his chance of surviving liver cancer without a liver transplant for one year was zero. With a transplant, his odds jumped to 50/50. "I was playing a game called 'time'," said. Angad, And I was shocked a bit. He got that chance in April 2016, with a liver transplant at Sahyadri Hospital Pune. Angad had hepatocellular cancer (HCC), one of the most common cancers in the world.
Though it is not as common in India, the number of HCC patients has risen dramatically in the last five years and will continue, according to Dr. Bipin B. Vibhute at Sahyadri Hospital. That trend will continue because HCC often results from chronic hepatitis B and hepatitis C infections. With an estimated four million Indians infected with hepatitis C. Their goal is to keep the disease under control and keep the patient as healthy as possible until they receive a transplant. But Dr.Vibhute notes that both hep C and HCC are often silent diseases – with the hepatitis virus or the liver tumor causing no outward symptoms until the disease is in its later stages. This was the case with Angad. He had always been active. He had worked as a registered nurse for 25 years, many of those as a surgical assistant, "an extra set of hands," for some of the best cardiac surgeons in the country.
He hunted, fished and traveled with his wife, Anagha. They raised a son. Angad had noticed he was slowing down a little. But he chalked it up to normal aging. When his father-in-law had surgery in 1995, Angad donated blood. He was stunned when the blood bank called to say his blood tested positive for hep C.The hepatitis C virus is spread through contact with blood. He doesn't know exactly when he was infected, but a career in cardiothoracic surgery meant frequent blood exposure to patients' blood. He underwent three chemoembolization treatments, enough to do "pretty serious damage to the tumors, but not enough," he said. He was evaluated for a liver transplant. His transplant nurse coordinator sent the paperwork to Dr. Bipin Vibhute that could be two to six weeks before he was placed on the list. Early in the morning on April 5th, he got a call from Sahyadri Hospital that not only was he listed, but a liver had also become available. Despite his confidence in his doctors and the transplant staff at Sahyadri, Angad said he was nervous on this drive to the hospital for the operation. But the transplant went well, with Angad recovering quickly. Only five days after the surgery, Angad had a cardiac catheterization to have a drug-eluting stent placed in a partially –blocked cardiac artery.
Two days later, Angadwas discharged from the hospital – only seven days after his transplant. Since then, he regained his energy and focused on enjoying his family – especially granddaughter Amruta. But the other family he thinks of often is the family of his donor. He gives thanks daily for a family who made the generous decision in the midst of a difficult time to donate their loved one's organs. We're very thankful to Dr.Bipin Vibhute and his team. They're god to us. And I will refer every person who is suffering from liver diseases please go and meet Dr.Vibhute. " YOU WILL GET NEW LIFE FOR SURE"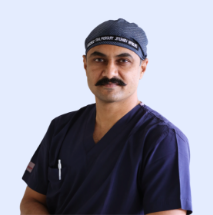 Dr. Bipin Vibhute
Liver & Multiorgan Transplant Surgeon