Dr. Bipin Vibhute – Liver Transplant Specialist Pune
Program Director Of The Center For Organ Transplants, Sahyadri Hospitals (Pune, Nashik & Karad)
Dr. Bipin Vibhute is a well-known Liver Specialist in Pune. He is first to start free liver Transplant in Pune for pediatric patients for age up to 12 yrs and EMI facility for liver transplant patients. He has done highest simultaneous kidney-pancreas in Maharashtra. Currently, he is expanding his transplant program all over Maharashtra.
Organ transplantation is a surgical process in which we replace an unhealthy or failed organ with a healthy organ of a donor. Transplants are often the best treatments for some end-stage diseases that cause organ failure.
Surgeries are special medical procedures that are used to treat any disease or an injury using instrumental techniques. Our experienced surgeons have performed many successful surgeries that include Whipple surgery, GI surgery, etc.
A disease is an abnormal condition that affects the functioning and structure of that organ in the body. The disease that affects any organ also affects other organs, which results in some signs and symptoms of that disease.
Resources
Most authentic & comprehensive
content on Organ transplant guides & care
Successful liver Transplant Surgery First liver Transplant at Sahyadri Hospital Karad
Doctors perform state's second concurrent transplant surgery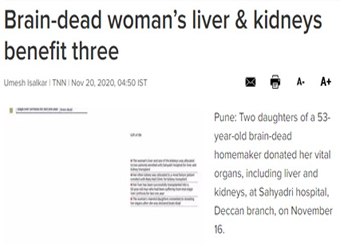 Brain-dead woman's liver & kidneys benefit three
Dr. Bipin Vibhute before saying that you are an extraordinary doctor, I want to tell you that you are an extraordinary human being. Dr explained all steps involved in the surgery, how surgery will be performed, precautions to be taken after surgery, recovery time etc..dr bipin vibhute sir &entire team is very co-operative , down to earth. even entire team is available an what's app to address our questions.He is very energetic that you also feel positive when you come a cross him . very talented & knowledgeable person with vast experience in liver transplant segment . if you need a great dr to help you with your health &wellness do your self a favor & meet this man..
Manohar Sandbhor
2022-04-27
Lately, in the last two years, I was suffering from liver disease and I was taking medication from one of my known Doctor. Over the past year, I was experiencing more and more problems. It was all kind of shocking for me but still I decided to get a Liver Transplant and very carefully chose Sahyadri Hospital. Selection of Sahyadri Hospital and meet with Dr. Bipin Vibhute Sir is a coincidence and a gift from God. It was decided to undergo Liver Transplant after in-depth discussions and information with Bipin Vibhute Sir. My wife Manisha Sandbhor is the Donor and she has been a great help to me. After all the necessary medical examinations, Dr. Bipin Vibhute Sir and Team performed my Liver Transplant Surgery on 11th January 2022 which was successful and saved my life. I sincerely thanks Dr. Bipin Vibhute Sir and Team for this great work. It's my great experience in Sahyadri Hospital, Deccan, Pune that, I could get operated successfully for Liver Transplant by Dr. Bipin Vibhute Sir and Team and till now everything is going on well. Myself and my wife both are feeling good and getting recovered very well. We are happy for the same. Sincerely thanks to Dr. Bipin Vibhute Sir and Team. God bless them.
Amazing skills and power house of energy. Fitness guru. Salute to you sir