Dr. Bipin Vibhute – Liver Transplant Specialist Pune
Program Director Of The Center For Organ Transplants, Sahyadri Hospitals (Pune, Nashik & Karad)
Dr. Bipin Vibhute is a well-known Liver Specialist in Pune. He is first to start free liver Transplant in Pune for pediatric patients for age up to 12 yrs and EMI facility for liver transplant patients. He has done highest simultaneous kidney-pancreas in Maharashtra. Currently, he is expanding his transplant program all over Maharashtra.
Organ transplantation is a surgical process in which we replace an unhealthy or failed organ with a healthy organ of a donor. Transplants are often the best treatments for some end-stage diseases that cause organ failure.
Surgeries are special medical procedures that are used to treat any disease or an injury using instrumental techniques. Our experienced surgeons have performed many successful surgeries that include Whipple surgery, GI surgery, etc.
A disease is an abnormal condition that affects the functioning and structure of that organ in the body. The disease that affects any organ also affects other organs, which results in some signs and symptoms of that disease.
Resources
Most authentic & comprehensive
content on Organ transplant guides & care
The doctor performed three successful surgeries on the patient at the same time
Successful liver Transplant Surgery First liver Transplant at Sahyadri Hospital Karad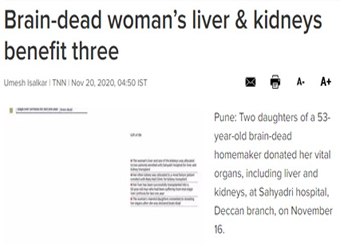 Brain-dead woman's liver & kidneys benefit three