Dr. Bipin Vibhute – Liver Transplant Specialist Pune
Program Director Of The Center For Organ Transplants, Sahyadri Hospitals (Pune, Nashik & Karad)
Dr. Bipin Vibhute is a well-known Liver Specialist in Pune. He is first to start free liver Transplant in Pune for pediatric patients for age up to 12 yrs and EMI facility for liver transplant patients. He has done highest simultaneous kidney-pancreas in Maharashtra. Currently, he is expanding his transplant program all over Maharashtra.
Organ transplantation is a surgical process in which we replace an unhealthy or failed organ with a healthy organ of a donor. Transplants are often the best treatments for some end-stage diseases that cause organ failure.
Surgeries are special medical procedures that are used to treat any disease or an injury using instrumental techniques. Our experienced surgeons have performed many successful surgeries that include Whipple surgery, GI surgery, etc.
A disease is an abnormal condition that affects the functioning and structure of that organ in the body. The disease that affects any organ also affects other organs, which results in some signs and symptoms of that disease.
Resources
Most authentic & comprehensive
content on Organ transplant guides & care
Successful liver Transplant Surgery First liver Transplant at Sahyadri Hospital Karad
Doctors perform state's second concurrent transplant surgery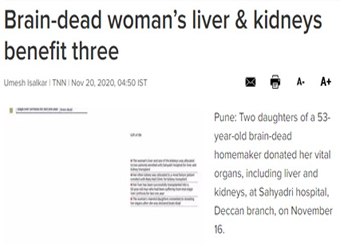 Brain-dead woman's liver & kidneys benefit three
Prashant Punde
2022-06-01
It was my pleasure to Dr Vibhute & Liver Team for giving such a wonderful Support to us. Thank you so much Doctor.
I am very thankful to sahyadri hospital deccan, Dr Bipin Vibhute and team for caring my father's health problem with his skillful tratment. Grateful experience with Dr Bipin Vibhute , Dr Abhijeet Mane and his team. I am properly informed about surgery and precautions to be taken after surgery. Entire team is available on what's app group to address our issues. All staff was great and helpful. Great service.. Dr Bipin Vibhute sir takes time with patients to help them with their issues. I am highly recommend him to anyone looking for liver specialist. Thank you once again Dr Bipin Vibhute sir, Dr Abhijeet Mane sir and his team..
Charmika Tankala
2022-05-13
Dr Bipin Vibhute and his team have excellent medical experience and are definitely second to none. My father was diagnosed with Liver Cirrhosis and his condition being critical we wanted to seek the best medical assistance possible. The feedbacks posted online helped us find and reach out to the best Liver Transplant Team here in Pune. Upon his first admission in the hospital, all the necessary investigations were done, he was kept under the supervision of a dedicated Liver Transplant team at Sahyadri Multi-Speciality Hospital. We were properly explained about his health condition and how we could make it better for him. Recently he has undergone Liver Transplant, operated by Dr Bipin Vibhute Team and his recovery is faster than promised. We express our utmost gratitude to the entire team for giving us hope during the darkest times of our lives.
Santosh Mohite
2022-05-11
My mother was diagnosed liver cirrhosis in 2008 and since then she was having serious health issues. In Jan 2021 she had developed severe ascites. We were taking the treatment from one of the best Gastroenterologists in Pune and he indicated that she needs a liver transplant as it was end-stage liver disease. We were in shock and worried as that was something which we never thought of. It was the same time when COVID fully emerged. I got the recommendation from one of my friend to meet and consult Dr. Bipin Vibhute sir. I had also seen a lot of good reviews about him where patients and their relatives were praising Bipin sir for exceptional treatment. In May 2021 we met Bipin sir and his team and it was confirmed that my mother needed the liver transplant immediately as the liver was seriously shrunken due to cirrhosis. Bipin sir is very humble and answers all the queries thrown at him. He explained all the processes and risks involved very well which made us to to take the decision within short time. We decided to go ahead with the transplant and we started doing pre-transplant tests for myself and my mother. Fortunately, my liver matched and we went ahead with the transplant surgery which was successful. During our stay at the hospital all the team worked really well and ensured to provide best treatment. I would like to thank Bipin sir and the whole liver transplant team for taking care of all the treatments and for ensuring the recovery of myself and my mother. They are truly life saviors for people having serious liver-related issues. Many thanks. Update: We completed 9 months post surgery and doing really well and living absolutely normal life
Aditya Sadaphal
2022-05-10
Hi My self Aditya Sadaphal from Shirdi I have donated 50% liver to my grandfather who age is 72 so we have operated in sahyadri hospital so I can't share my feeling's by writing something but thanks to Dr. Bipin Vibhute and all transplant team and all codinator team and also all ICU liver transplant staff and Very good staff as mama & mavshi very helpful sisters & brothers is also giving their best, doctors consulting is very nice. Total hospital management is very good All service is very good... Staff behavior is very soft and polite. We are happy with all service. And we Both are in good condition and healthy special thanks to Dr. Bipin Vibhute they are like god to us Thank you so much 💓
Sudhakar Galande
2022-05-10
माझा अनुभव दोन वर्षापासून आहे खूप चांगले डॉक्टर आहेत आता मी पूर्णपणे बरा झालो आहे माझी केस खूप खराब होती 24 तास पेशंटला काहीही प्रॉब्लेम झाला तर मेसेज चा रिप्लाय लगेच देतात थँक्यू सर